This article is about the relationship between Eugly and Olaf.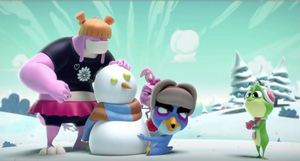 Relationship
Eugly and Olaf do not interact very often on the show. In the episode "Let's Play Chefs", Eugly enters a cooking competition judged by Olaf, but he immediately disqualifies her before even trying her dish, which made her burst into tears as usual. In "Let's Play the Very Special Episode", they seem to be on better terms, however, as they are seen building a snowman together, along with Pretty. Also, when Olaf tells Kaeloo to "shut up", Eugly seems to find it funny and laughs loudly at.
Ad blocker interference detected!
Wikia is a free-to-use site that makes money from advertising. We have a modified experience for viewers using ad blockers

Wikia is not accessible if you've made further modifications. Remove the custom ad blocker rule(s) and the page will load as expected.