This article is about the relationship between Kaeloo and Pretty.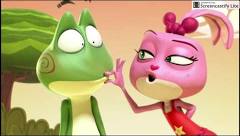 Relationship
Kaeloo is the only character besides Eugly to not completely despise Pretty, but sometimes even she doesn't like Pretty. It's possible that both girls see each other as rivals, except in "Let's Play Lady Luck" where they are portrayed as friends.
Kaeloo's relationship with Pretty is probably worse than her relationship with any other characters. Kaeloo normally seems upset by Pretty's bullying, and in "Let's Play Top Models" she teams up with Mr. Cat to get revenge on Pretty for insulting her, and they both get her humiliated on the news. Kaeloo almost always seems very eager to keep Pretty as far away from Mr. Cat as possible, which may be due to jealousy.
Pretty is usually very mean to Kaeloo and insults her for no reason, such as in "Let's Play Beach Volleyball" when she tells Kaeloo to her face that she isn't cute. In some episodes, she alternates between being nice to Kaeloo and mean to her between scenes.
Ad blocker interference detected!
Wikia is a free-to-use site that makes money from advertising. We have a modified experience for viewers using ad blockers

Wikia is not accessible if you've made further modifications. Remove the custom ad blocker rule(s) and the page will load as expected.