This article is about the relationship between Quack Quack and Eugly.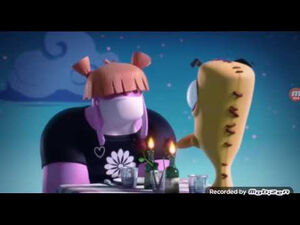 Quack Quack and Eugly are boyfriend and girlfriend. They fell in love the moment they first laid eyes on each other in "Let's Play Truth or Dare".
Quack Quack is the only person in the cast who is nice to Eugly and doesn't make fun of or abuse her. He is often seen on dates with her or talking with her. The only time he ever gets angry at her is in "Let's Play Party", where he gets angry with her due to one of Mr. Cat's schemes making it look as though she was cheating on him.
Eugly is very protective of Quack Quack and will beat up anyone who dares to hurt him in front of her (which is usually Mr. Cat). She is always happy to be with him, except at the end of "Let's Play Truth or Dare" when she punches him because Kaeloo thought they were in love (even though they actually were).
Ad blocker interference detected!
Wikia is a free-to-use site that makes money from advertising. We have a modified experience for viewers using ad blockers

Wikia is not accessible if you've made further modifications. Remove the custom ad blocker rule(s) and the page will load as expected.